Published April 24, 2019
The Universal Prayer of Leaders in Colombia Put Into Action Through the Summit
Transformation
Transformation is the universal prayer and hope of countless leaders around the globe.  "We must see change in our country," they cry out in unison.
There are hundreds of thousands of hands held high in 135 countries around the world!
Recently, I was privileged to see firsthand, a living example of a community in Bogota, Colombia take a desire for transformation and put it into action.
The Global Leadership Summit I witnessed in March 2019 was attended by over 350 people representing all sectors of society. Many arrived over an hour early, patiently and eagerly waiting to be inspired, equipped and encouraged. And they were not disappointed.
Seven months earlier and 2,700 miles away in South Barrington, Illinois, I watched the same Summit event live. It turns out, the Spirit in Seeds of Life Auditorium in Bogota was no different! The quick clapping when a speaker inspired them to a grander vision, the laughter when a remark hit their funny bone, the complete silence when they were emotionally moved to a place of reflection and hope.
And during those moments it hit me time and time again…
I get to be a part of this!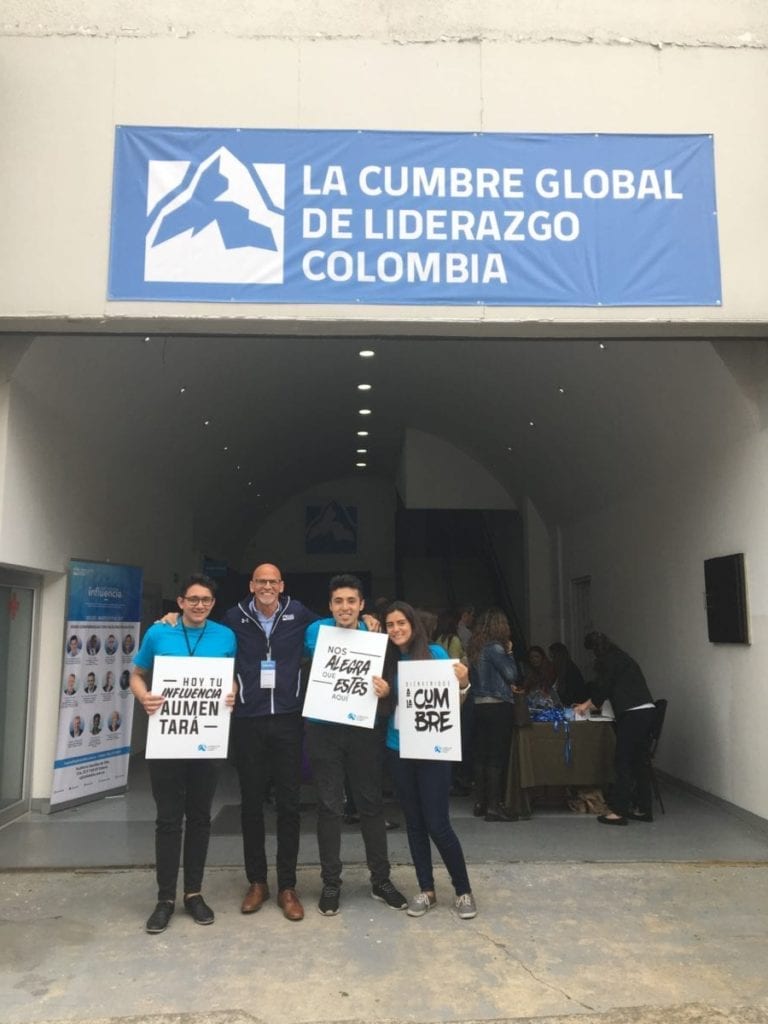 I'm witnessing God's beauty and power on full display as I look at hands held high during worship and think, this is one site in one country. My goodness, there are hundreds of thousands of hands held high in 135 countries around the world!
Knowing those moments are happening again and again keeps me reaching out and visualizing with our investment partners again and again, imagining together that one day there will be millions of hands held high!
The growth of The Summit has been off the charts in Colombia. It is reflective of the vision and action taken by so many volunteers and led by Camilo Bedoya, GLS country leader.
Connecting pastors in a special way
God has made the path of pastors prosperous and has connected them in a special way in their region. For example, Pastor Andres Vargas, from a neighboring church, brought 80 of his congregants with him and exclaimed, "I want my church here so that we can grow our leadership and help to create a better Bogota!" They view the GLS as having an impact on more than just the ministerial activity in their church; they received a commission to take the Summit to their cities to reach and inspire more people.
The Summit reached 1,225 attendees in 3 main cities in 2018 (a 400% increase in just two years!)
There was a new attendance record in Colombia 2018. It reached 1,225 attendees in 3 main cities (a 400% increase in just two years!) and began to create a national movement where more and more people are hearing about the GLS and the opportunity for transformation across the country. They have a strategy in place to expand the GLS on a national level, as coordinated work is being done for future cities such as Cartagena, Barranquilla and Cali.
The mission of the Colombian GLS team is clear
They exist to impact Colombia by developing Christian leadership in every sphere, transforming the community and maximizing the impact of God's kingdom.
God continues opening doors! They are now working to have senators and congressmen of Bogota attend the GLS for the purpose of impacting the beautiful country that National Geographic describes as, The Sleeping Giant. And God is using the GLS to wake up this country so that their dreams of a better Colombia can become a reality!